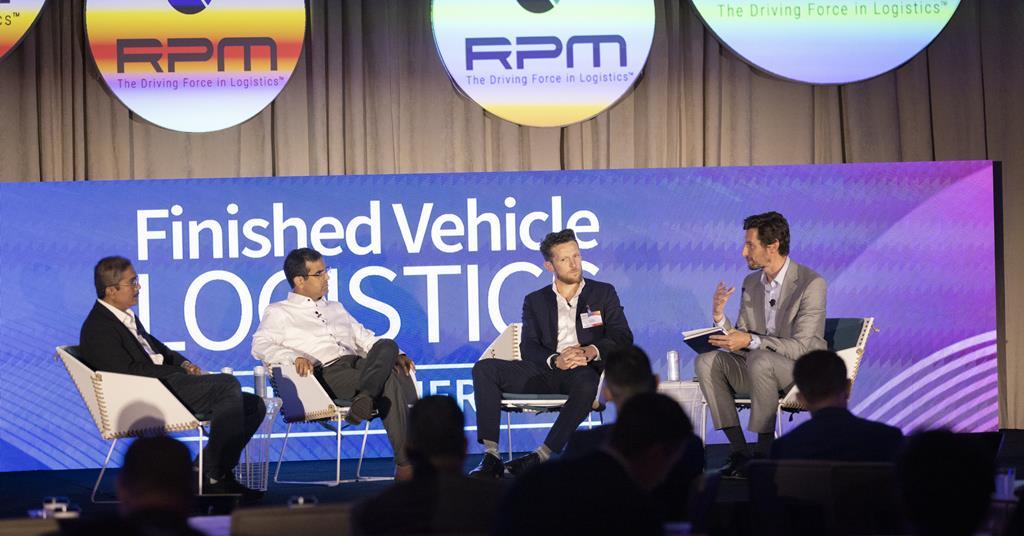 Digital is transforming vehicle delivery | New
In the United States, continued delays in vehicle production, combined with problems finding adequate capacity for actually manufactured vehicles, led to demand exceeding supply. Dealer inventory is currently around 1.1 million units, which equates to a 25-day supply, 70% below pre-Covid levels. OEMs operate on a model that is more like build-to-order than build-to-stock. This has put increased pressure on the industry to seek support from technology providers who can automate services such as vehicle inspection and fleet management.
At this year's Finished Vehicle Logistics North America conference in Huntington Beach, Calif., Ed Jones, business manager for vehicle inspection expert DeGould, noted that there has been a marked change in attitude within industry and OEMs were looking for support and services to complete the delivery. of their more efficient and transparent cars.
Changing attitudes
Digital vehicle inspection systems, such as those offered by DeGould, are automated and run on artificial intelligence software and computer vision. DeGould's Auto-compact Vehicle Inspection Module, to take one example, includes seven cameras that capture ultra-high resolution images, along with two dedicated wheel cameras and seven scan cameras to detect any damage to the vehicle. Vehicles can pass through the module, increasing throughput and saving time.
In addition to speeding up the inspection process, the technology has the potential to improve the quality and efficiency of the damage detection process and eliminate the potential for human error. That's what the industry is looking for now, according to Jones, and companies are eager to learn what the technology can do and how to implement it throughout the vehicle delivery process.
"What we're seeing now is a massive shift in attitude," he said. "People are increasingly coming to us and asking how quickly we can get these things in place. Despite all the headwinds, it has accelerated the need for this technology."
Hamed Bazaz, director of business development at Seoul Robotics, agreed that services based on the latest digital technologies are receiving much more attention from the finished vehicle industry.
"Over the last few years there has been a lot more interest and a lot more investment behind this. It changes and changes quickly," Bazaz said.
Seoul Robotics manufactures 3D perception software that merges information from different types of 3D sensors, which can be lidars, 3D cameras or radar sensors for example. This data is represented in an environmental model and allows users to accurately and safely manage the autonomous guidance of a vehicle in various situations. In the automotive sector, the technology has applications in vehicle factories or vehicle distribution centers (VDCs) for autonomous movement and parking of vehicles. According to Bazaz, the technology saves labor, makes yard management safer and more efficient, and enables 24/7 operations.
Investment and innovation
Bazaz said the software-centric technology now offered to the finished vehicle industry was a profitable long-term investment, helping to shift attitudes towards greater adoption.
"Software is much easier and cheaper to update than hardware," Bazaz said, adding that once the underlying hardware capability was in place, the app was sustainable through software updates.
"You can improve your AI algorithms, improve your detection capability, and improve how you analyze data," he said. "All of this allows you to keep your technology up to date and continue to add value for the customer for an extended period of time."
Vivek Sinha, managing partner at Sphere, which also provides vehicle inspection and monitoring technology, said automotive customers are asking for more support and it is this demand that is driving its continued innovation.
"They're asking and pushing for more technology to overcome the gap and challenges in today's market," he said. "The market is definitely ready and we're seeing customers driving companies like us to innovate and innovate faster."
Sphere offers customizable vehicle inspection and fleet monitoring services. Its Prism inspection pod, developed over the past two years, is custom built to the environment in which vehicles are to be inspected. The pod is equipped with 4,000-10,000 megapixel smart cameras and an array of sensors that inspect each vehicle in 3-5 seconds, identifying it by VIN and capturing real-time quality information for encrypted storage in the cloud.
Seamless integration
What is essential for the adoption of these new technologies is that they integrate perfectly with the existing environment in which they are integrated. At Seoul Robotics, Bazaz said implementing its systems in a typical manufacturing or VDC site meant integration with existing infrastructure. This meant knowing where the monitored vehicle was destined and what touchpoints it needed to hit along the way, whether it was loaded onto a ship or diverted for post-production post-processing, for example.
"It all has to be tied into existing systems, there's no getting around it," he said.
Jones said the same was true of DeGould: "The onus has to be on us. We have to do [the technology] accessible. We need to create a platform and an integration or KPI where data can be transferred easily. »
Jones said installing the hardware was one thing, but integrating the software was time-consuming. This required being prepared in advance for the implementation and working in conjunction with the client, including the field teams involved in finished vehicle management and IT.
This integration is not without challenges. Legacy automotive systems and processes can be convoluted and difficult to circumvent. Practical application of new digital technology to an existing process can reveal just how flawed the existing process is, according to Jones. However, new sites built by new OEMs have the potential to integrate more quickly, and this is true when it comes to electric vehicle production.
Watch the full session on digital tools used in finished vehicle logistics from this year's FVL North America conference
Process streamlining
Once this groundwork is done, greater efficiencies are very quickly realized and Jones highlighted installing his technology in vehicle handling ports (as he did at the Port of Southampton in the UK to support BMW).
"You'll have multiple OEMs passing through a port and when you install an installation you immediately have a multi-tenant situation," Jones said, adding that the captured data is also useful to the port and helps increase efficiency.
"Instead of having different processes, you can streamline and find efficiencies by running everything through the same system," Jones said. "As soon as the vehicle is dropped off or disembarked from a vessel, within minutes of getting this data, it's a huge win for the port in terms of labor and time. But you need to distribute this information to the right parties and keep it safe.
This opportunity for a business to contribute to the efficiency of wider processes in the outbound supply chain is part of the digital transformation the finished vehicle industry is currently going through.
Vivek Sinha said that coordinating and automating multiple touchpoints in a fleet is technically easier than integrating across the supply chain, but providing an open platform and facilitating the flow of captured data to other parts of the supply chain, this contributed to greater efficiency.
"You have to look at transformation from a process perspective rather than an activity or an event," he said.
Jones said there is now a huge opportunity for the finished vehicle industry to adopt the software available to it and for OEMs to collaborate and further explore the potential of the technology with its suppliers.
"We have to stay on the cutting edge in the years to come and see what's coming, and ultimately listen to the customer and have the feedback to create what they want us to create."