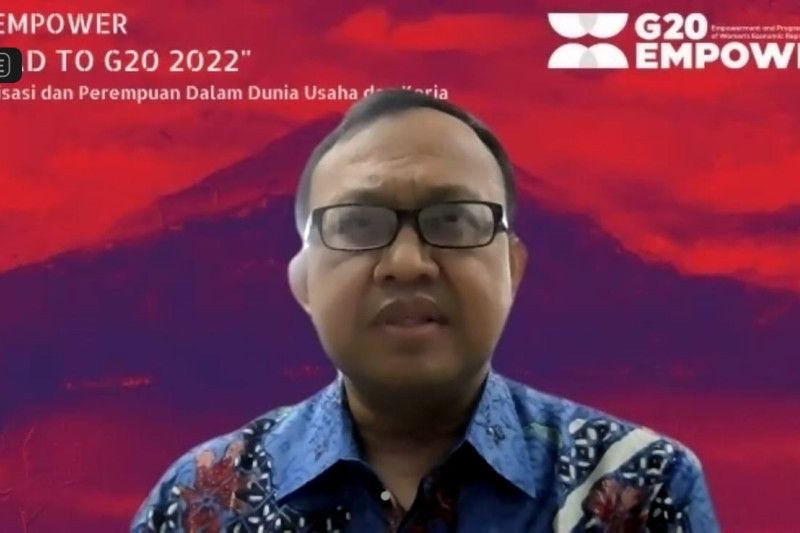 Ministry presents digital development strategies for women MSMEs
Since these businesses can be conducted from home, the role of women (entrepreneurs) as housewives should therefore not be overlooked.
Jakarta (ANTARA) – The Director of Digital Economy at the Ministry of Communication and Informatics, I Nyoman Adhiarna, presented several strategies to increase women's involvement in Micro, Small and Medium Enterprises (MSMEs) in the digital ecosystem.
"The first is to make a change in production. The pandemic has disrupted other business areas, so some commodities have much higher demand," he said during a talk. G20 Empowerment and Progression of Women's Economic Representation (EMPOWER) virtual show titled "Road to G20 2022: Digitization and Women in Business" on Wednesday.
The G20 EMPOWER is a working group under the Sherpa Track of the Indonesian G20 Presidency of 2022, whose goal is to accelerate women's leadership and empowerment.
The situation has led several MSMEs to make various adjustments based on market demand, so that they can successfully survive amid the COVID-19 pandemic, the director noted.
He pointed out that the change in production can be done temporarily and does not require a lot of capital, for example by becoming dealers or distributors of goods currently in demand.
Related news: Optimistic MSMEs will recover amid pandemic and geopolitical tensions: KSP
Another strategy is to leverage technology to market MSME women's products to reach wider consumer targets through digital marketing and social media, he noted.
Therefore, Adhiarna has encouraged MSME stakeholders to participate in various digital training programs organized by both the government and the private sector, such as various e-commerce companies.
"Many forms of assistance and facilities have been provided to MSMEs," he noted.
Adhiarna's party expected that, through trainings, the government could achieve the target of bringing 30 million MSME players into e-commerce platforms by 2024.
The goal was set by President Joko Widodo (Jokowi) to advance national digital economic growth.
Related News: Government makes three recommendations on developing SME policies
However, in addition to honing digital skills, the director also expressed her optimism that MSME actors can create a forum for cooperation based on local wisdom, with the main goal of empowering women.
He said the attempt aligns with the important role of women in the MSME sector, where female MSMEs are mostly associated with small shops as well as food processing and handicrafts.
"Since these businesses can be conducted from home, therefore, the role of women (entrepreneurs) as housewives should not be overlooked," he asserted.
According to data from the Ministry of Communication and Information Technology, the MSME sector contributed 61% of Gross Domestic Product (GDP), equivalent to Rs 8,573 billion, and absorbed 97% of labor -total national work.
Related news: Young people should play a vital role in the development of the digital economy
Related news: At least 20.5 million MSMEs entered digital ecosystem: minister