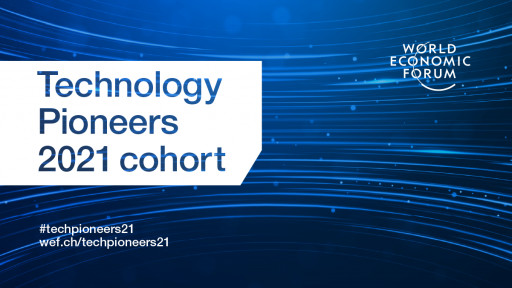 The Secret of SandStar's Ability to Be a Tech Pioneer at the 2021 World Economic Forum
The World Economic Forum has announced its selection of the 100 Most Promising Technology Pioneers of 2021 – companies shaping sectors from healthcare to retail and many more. SandStar, which provides AI retail products and solutions using computer vision as the core technology, was selected for its innovation in retail.
CHARLOTTE, North Carolina – June 24, 2021 – (Newswire.com)
In a time of major change, the new business civilization arrives with a great roar.
In the short term, the COVID-19 pandemic has become the most serious global public health crisis since the Spanish flu in 1918. The pandemic, which could occur once in every hundred years, has changed everyone's way of life, and physical offline businesses have had to accelerate their transformation and upgrade stages.
In the long term, with the waves of improvement in consumption and the application of artificial intelligence (AI) technologies, the retail industry has ushered in another important round of transformation and upgrade. In the channels of production, circulation and sale of goods, how to reduce the costs and increase the efficiency of each of them has become a compulsory course for companies and the essential condition for their very survival.
On this obligatory path, SandStar, the first technology company to venture into the "AI + retail" field, stood out at the World Economic Forum.
The World Economic Forum is known as the highest-level unofficial meeting on the world economy, and the main participants have been top political and economic leaders as well as renowned business leaders and experts from various countries. Each year, the "tech pioneers" are selected by the World Economic Forum from more than ten thousand companies around the world. These are the top 100 companies that can use innovative technologies to promote future economic growth and the well-being of people. Companies on the list must not only have unique visions for technology development, but must also have the potential to become industry leaders and advanced core technologies in their industries to continue to make significant contributions. to the development of their industries.
On June 15, SandStar became one of the 2021 World Economic Forum's 100 Technology Pioneers for its advanced AI retail solution and innovation capabilities that will drive changes in the future retail industry. digital. On this list, SandStar is the only AI retail technology company.
"AI + retail" became a racetrack for entrepreneurs in 2017. But after only a year, the racetrack quickly entered the period of redesign. There were few survivors of the tide, and investors and entrepreneurs alike gradually became rational again. What have failed businesses done wrong? What exactly did the survivors do? And where is the exit for them in the future?
Perhaps we can take inspiration from SandStar, which stood out at the World Economic Forum.
SandStar AI Retail Methodology
Sean Ellis proposed a famous equation in his book Growth Hacking: How Today's Fastest Growing Businesses Help Escape Success, Desire – Friction = Conversion rate. In retail scenarios, the buying desire of customers is to spend the minimum amount of time and the minimum amount of money to get their favorite products.
The greatest value in AI-powered dynamic vision recognition technology provided by SandStar, a company founded in 2016, to customers is the best user experience and reduced friction in their purchasing process. Concretely, it allows customers to make their purchases without counting the items and without making payment, to make the purchase process faster and faster for them: they can scan a code to open the door, take whatever they want. they want and close the door to leave, because the payment process is automatic. This is true "take out" shopping, where you don't have to go through the complex process with traditional vending machines: select an item you want, wait for it to come out and bend down to pick it up. high. Such an experience has almost minimized friction for customers in the buying process and is naturally easier to produce a higher conversion rate.
Any new technology has yet to be tested by what it really is: can it cut costs and increase sales?
In the age of the internet, the upgrading and evolution of smart devices has become an inevitable trend. Accenture data shows retailer spending on AI technology is expected to reach $ 5 billion by 2022, and AI is expected to increase retail and wholesale profitability by nearly 60% in 2035 .
"SandStar is absolutely not a pure technology company, and rather we want to become an AI platform to serve retail and really empower retailers and the retail industry," the CEO said emphatically. of SandStar, Yili Wu. SandStar digitally increases the efficiency of traditional retail networks by using AI technologies as 'eyes' and big data analytics as 'brains', to help retailers reach the aim to reduce costs and increase efficiency.
SandStar's smart vending machines use dynamic computer vision, today's cutting-edge AI technology. Compared with RFID, gravity sensor and static recognition technologies, dynamic vision recognition technology does not have too many restrictions on where the goods are displayed and how they are selected. An entire vending machine just needs to install 2 cameras, so that its space can be fully utilized, and the efficiency of the replenishment clerk as well as the number of goods that can be sold can be greatly increased. In actual use, they can reduce the cost of restocking by 50% for traders.
In addition, each intelligent vending machine as the smallest retail unit can be deployed flexibly and quickly, and compared to opening a physical retail store, the deployment efficiency can be increased exponentially.
Take the example of the smart vending machines provided by SandStar for the Charlotte Douglas International Airport. This airport is the location of American Airlines headquarters in eastern America and its hub, and is also a busy airport.
How to quickly and efficiently use airport pedestrian traffic? Opening stores could be the choice of most people. But opening a new physical store is very expensive and time consuming, from signing a lease to building the store and planning the operation. In comparison, smart vending machines have a smaller footprint, can be deployed in various corners like capillaries, and the deployment process is quick and easy. Consumers can buy things for them like taking something from their own refrigerator at home. During the pandemic, they largely met the airport's requirements for safe, convenient and contactless shopping.
Compared to traditional vending machines, the smart vending machines at Charlotte Douglas International Airport supplied by SandStar and using dynamic computer vision technology have also become the point of contact between the airport operator and offline consumers. . Thanks to the dynamic computer vision technology of cameras, various things, including consumer buying behaviors, group functionality and real-time merchandise inventory, can be converted into data to be backed up without compromising the privacy of data. users.
Based on the results of the data analysis, traders can obtain operational information such as stock in each vending machine and user preferences, and can optimize their replenishment, ordering and display strategies, to reduce restocking and other operating costs and driving more sales, to really help cut costs and increase efficiency for offline retailers.
Deepening the real needs of merchants and consumers is something SandStar has done. It is also thanks to the professionalism of its solutions that today SandStar products and services have been adopted in 12 countries and regions, including the United States, United Kingdom, Thailand and United Arab Emirates, and the company has accumulated a great deal of experience in product deployment.
SandStar has been exploring for almost five years. Its deployment cases with many leading companies provided the best answer, and also widened the gap from its rivals.
In history, each huge change would take around 50 years from start to finish. The digital revolution has just passed through the first 20 years, and all the new productivity tools are already here. Retail is restructuring at an extraordinary rate. In the next 30 years, we will truly enter the era of the digital economy, and this process will also be where the opportunities lie for SandStar.
Press Releases Department
through
Newswire.com
Primary source:

The Secret of SandStar's Ability to Be a Tech Pioneer at the 2021 World Economic Forum